Divination board and throwing pieces
2022
Organic cotton and locally sourced elm, ash, oak, sweet chestnut, alder and douglas fir timber. Green wood from birch, hazel and ash. Sweet chestnut conkers and oak galls
Created during the Field Notes residency at Sylva School as part of Make Good: Rethinking Material Futures programme at the V&A.
The piece is on display at the Victoria and Albert Museum, Susan R Weber Gallery, as part of Make Good: Rethinking Material Futures group exhibition, 29th November 2022 – 31 October 2023.
Treespeak is a divination tool that creates space for a participatory dialogue between humans and woodlands to help us connect to the forest as a sentient animate ecosystem.

Grounded in animist research I am undertaking with Colin Campbell, a practicing bone diviner and a holder of Zulu and San Bushman traditions, divination can be defined as a practice of receiving communication through a vocabulary of pieces that are directly linked to specific ecological contexts and are layered with carefully harvested observations, symbols, characters, histories and energies.

Through the constellation and conversation between the grid, the pieces, and the diviner, an emergent fluid language appears, creating pathways through which the essence of the ecosystem in focus can communicate. All wood sourced for the piece has been sourced within the 20 mile radius from Oxfordshire, giving Treespeak the agency and potency to communicate on the behalf of British wood cultures.

Made in ritualistic and mindful manner, each throwing piece evokes a different mode in which humans have historically engaged with trees. By throwing the six pieces onto the gridded board representing different parts of the forest, participants access a constellation of responses, interpreted through a diviner or a book of readings. Treespeak invites participants to step into conversation with the trees and to sense into the complexity of forest ecosystems and the diversity of human-tree entanglement .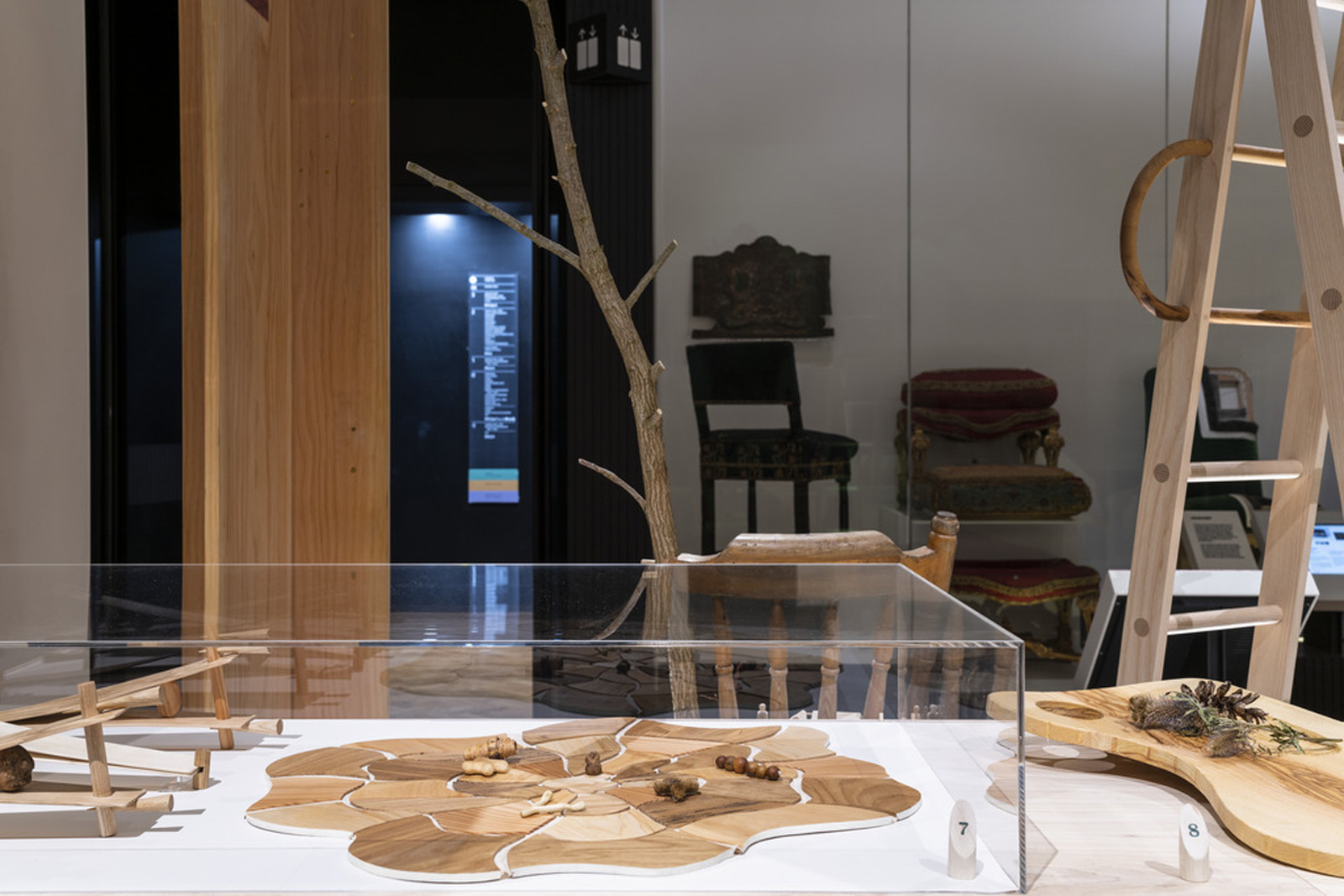 Treespeak is designed and produced by 
Locally grown certified timber is sourced via 
 V&A Make Good programme and exhibition curator:
V&A Make Good assistant curators:
Danilo Marques dos Reis and Maude Willaerts
Special thank you for supporting the programme:
Big thank you to the Sylva Wood school team:
Joseph Bray, Hattie Speed, Anthony Dain, Gabriel Hemery, Lynn Jones and Phil 
courtsey of the V&A and Gabriel Hemery