GROWING CONNECTIONS: DYEING, CRAFTING, FEASTING
2022
Garden residency that produced: circularity-focused curriculum of 10 workshops + community-derived garden  & natural dye prototypes  +  dye & feast recipe book 
A hyperlocal ecofeminist design research project and civic education curriculum connecting community garden R-Urban Poplar and fashion production and social engagement space Making for Change, with the aim to bridge the A12 community divide through food, waste, growing, craft making, repair and natural dyeing.
The project was an East London cluster for Climate Studio, a UAL pilot research and community engagement programme to support place-based climate action. The project was feeding into the existing relationship between LCF and organic food delivery company Abel & Cole.
10 ECOFEMINIST WORKSHOPS COMPOSING A CLIMATE AND CIRCULARITY-FOCUSED ECOFEMINIST CURRICULUM FOR LOCAL RESIDENTS THAT INVOLVED: DISCURSIVE DINNERS, NATURAL DYEING AND PRINTING, FLAG MAKING, TEXTILE REPAIR, SEWING, MENSTRUAL CYCLE AWARENESS AND FUTURE VISIONING WORKSHOPS
4 COMMUNITY-DEVELOPED FLAGS SHARING SUSTAINABLE VISIONS FOR THE FUTURE
2 PILLOWS OF HOPE PROTOTYPES MADE OUT OF COMMUNITY DYED FABRICS, WITH A STRATEGY FOR A FUTURE INITIATIVE UNDER MAKING FOR CHANGE
PUBLICATION FOR ABEL & COLE VEG BOXES – FOOD RECIPES + ACCOMPANYING RECIPES OF USING REMAINING WASTE FOR NATURAL DYEING AND PRINTING
CIRCULAR PROTOTYPES FOR THE TEVIOT CENTRE AND R-URBAN GARDENS MADE AT MAKING FOR CHANGE: GARDEN TOOL BAG THAT TRANSFORMS INTO AN APRON AND PLANTER PROTOTYPES, ALL USING WASTE ADVERTISEMENT TARPAULIN FROM ABEL & COLE TRUCKS
COMMUNITY NATURAL DYE & FOOD GARDEN DEVELOPMENT STRATEGY FOR POPLAR WORKS
Growing Connections was part of Climate Studio, a University of the Arts London (UAL) initiative to form a joint network of citizens, organisations and government to support collaborative place-based climate action by delivering a public programme off knowledge exchange activities involving local residents, council representatives and UAL students, graduates and academics. The aim of these collaborative practices is to tackle climate justice at neighbourhood scale, building on local needs, practices and knowledge.
COLLABORATION WITH ABEL & COLE
Throughout the project we have developed planter prototypes for LCF partners Abel &Cole using their truck tarpaulin. The planters have been widely tested at the R-Urban garden and were tweaked based on the feedback form the head gardener. These planters will be sold through the Abel & Cole website.
Pillows of Hope are prototypes for a new Making for Change initiative where through natural dye and applique workshops with the local community we would make new naturally dyed home décor products that would raise funds to support the creation and upkeep of local community food and natural dye gardens.
CIVIC ECOFEMINIST CURRICULMUM FOR LOCAL RESIDENTS
"Our life is really changing since we've started coming to your workshops! We are now looking at all waste from a new perspective. Thank you so much for sharing all this with us. The girls now see the caddy bin as a resource for creative projects, not as trash. Coming to your workshops we realised that there is so much more we could do around the house. I thought we were doing a lot already but you showed us that we could do so much more and in a fun inspiring way."   
– Zareen's feedback from attending the workshops
LUNCH WITH FORAGED & LOCALLY SOURCED INGREDIENTS + NATURAL DYE WORKSHOP OUT OF LUNCH'S WASTE SCRAPS
Using the communing of a feast and creative process of natural dyeing as containers for a more tangible and accessible way to explore topics around circular living, making and sourcing, exploring domestic and local food waste as goldmines for creativity, foraging ethics, and living in tune with the local land.
"This is exactly why I am home-schooling my girls, so they actually learn the skills they want to learn. They didn't want to leave. My older one is already planning how we will be dyeing something next week, she is very inspired. It's awesome that you have shared foraging ethics as well in an accessible way, my younger one needed to hear that as she grabs plants without much care and your tips I hope made her think about all the other birds and animals who might be feeding on the same bush."
– participant's feedback
A family-friendly workshop making community flags that explore collective visions for the future of Poplar, and the planet.
Starting with discussions on ways to improve Poplar, we moved into small group collage exercise using old magazines. These ideas were then translated into fabric flags, using scrap fabric from Making for Change.
HOW TO LIVE IN BALANCE WITH NATURE'S SEASONS, MOON CYCLES & MENSTRUAL AND HORMONAL RHYTHMS
Links between nature's seasons and women's hormonal and menstrual cycles were explored, showing how we could learn from nature's seasonal ways for our own personal wellbeing. The workshop focused on openly discussing periods, emotion processing, burnout, different cultural and faith perspectives on menstruation and our connection to nature, how to manage energy levels and how to improve mental health by living in harmony with your inner seasons.
"Every woman should know about this. Thank you for creating a safe and inspiring space for the discussion. I am very inspired to share this knowledge with other women. Thank you also for providing me with so much space to share about the spiritual lessons from the Quran, it was so nice to share them with you. The more I explore the world, the more it's clear that every religion started with praising, celebrating, and learning from nature. How great is it that that our menstrual cycle helps us to do exactly that. "– participant's feedbacK
"Thank you so much for this conversation. I had no idea about any of this, I've learnt so much and I am inspired to love my amazing body a bit more. I like that we are so connected to nature."  – participant's feedback
HARVESTED DINNER WITH A CHEF MASTERCLASS + NATURAL DYE WORKSHOP USING WASTE FROM COOKING
A community cooking, dyeing and dining event in collaboration with local Bengali Women Association community leader Aleya. We harvested cooking ingredients from Teviot Centre and R-Urban gardens for Aleya's onion bhajis, with Aleya showing the best cutting and cooking techniques. In parallel participants could learn how to use food waste from cooking to make dye for textiles, using shibori, tie dye and bundle dye techniques.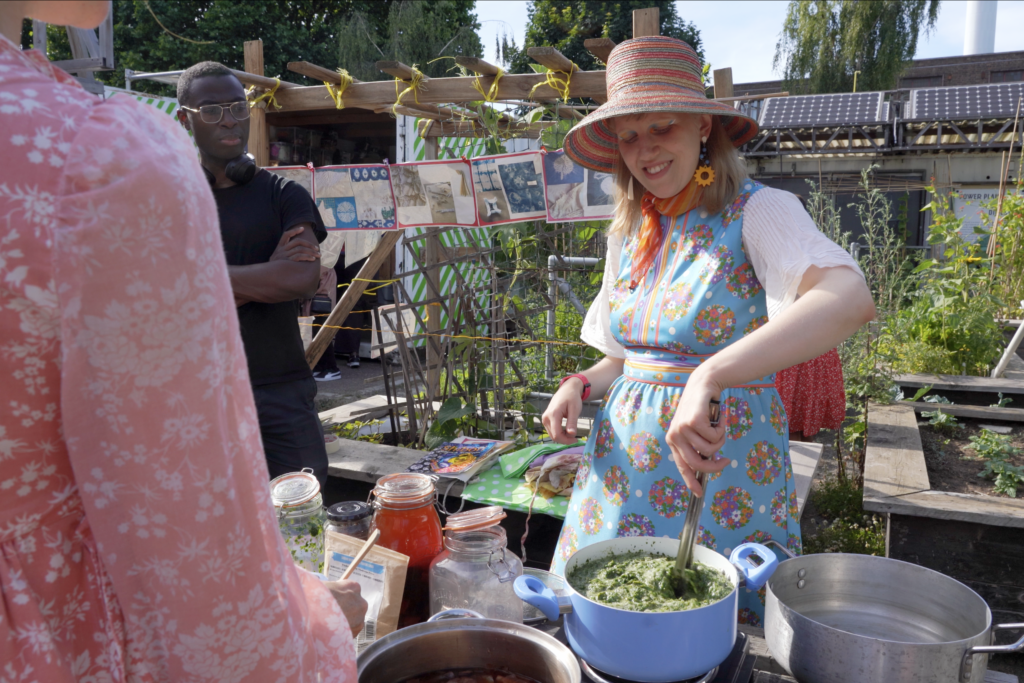 "Although I knew that food waste and fabrics can be reused to create something beautiful, I've never actually had the chance to do it myself. I was really amazed with dyeing with food waste- I was pleasantly surprised with the colour of the avocados.. For myself I've changed with these workshops! I've become more self aware of what I do with food waste. I've now started thinking of ways in which I can create something beautiful with that which was about to go in the caddy bin!"
– participant's feedback
SHARING CREATIVE MENDING TECHNIQUES TO BRING NEW LIFE TO OLD CLOTHES
We've explored including visible mending and darning. Mending was used as a process and a metaphor to explore strategies and exercises that can help repair our connection to nature.
"I've really enjoyed learning how to mend. I've never tried sewing before so darning that sock felt like a real achievement. I now want to try to fix all of my worn out jeans. I have so many and now I sort of know how to do it." – Participant's feedback
BOTANICAL INKS, BLOCK PRINTS & SCREEN-PRINTING
Participants learnt how to print with nature's abundance on textiles and paper. We've explored how to use leaves and flowers to print directly onto textiles. We've made our own textile inks, from kitchen ingredients, food waste and allotment-grown dye plants, and used them for screen-printing and block printing, while exploring how we can leave a more beautiful imprint on the environment.
"My favourite part today was the comradery I've experienced with the women. I love gathering together with women and bouncing ideas from each other. I also loved learning new fashion skills today – I've never printed textiles before with block prints and screens so this was exciting to learn. I love how craft brings people together in a more soulful way. This kind of work with natural materials, old techniques and slow process amongst other women while out in nature works really well for my psyche." – participant's feedback
PATTERN-CUTTING & SEWING FOR GARDENS
Working at Making for Change studio, participants created planters for their windowsill or garden using soft waste materials that were previously used as Abel & Cole truck advert tarpaulins.
"This was my first time sewing on an industrial machine which was exciting. I know how to sew but don't know how to pattern-cut so thank you for an opportunity to learn this new skill . I've taken some materials for another planter to try at home." – Mitale's feedback
CRAFTY DINNER FOR GREENER FUTURE
ECO-LEAF PRINTING, DINNER  & BLOCK PRINTING  WITH  INKS MADE OUT OF DINNER'S WASTE SCRAPS
A vegan community dinner was cooked and participants were invited to share their collective green dreams around the table. We've shared more natural dye print ink recipes made from dinner ingredients' peels and spent the day making block prints from locally grown potatoes and stamps from garden leaves
"I am so inspired by all your workshops. After the first workshop I attended I started experimenting with natural dye at home. I made bundle dyes and dyed with berries and added lavender for smell, now we are making inks! That's new. I am super inspired and feel like my creative juices are really flowing. This is such a therapy for me. Being outdoors, out in nature while making is very special." – Natalija's feedback
DYEING & PRINTING WITH WOAD
A day exploring native to England indigo dye from a plant called Woad. Participants learnt to extract the pigment and dye fabric with this beautiful blue colour, while exploring the colonial legacies of colour blue, the complexities around production of fast fashion, actionable steps to raise awareness and the importance of living and sourcing locally. We've collectively made fermented woad balls from fresh leaves, made in according to a medieval technique, pounding the leaves with a stone.
"My favourite part was the reaction of woad to the oxygen and learning that the plant was used by native Brittons to scare off their enemies. It has also inspired me to grow woad."
– Dorothy's feedback
"I love how we got to speak about global fashion trade today and that this workshop helped my 7 year old daughter to understand that the extraction of colour sometimes has colonial histories and issues. She knows a lot about slavery already so it was amazing to get an opportunity to share with her that colonial legacies are part of nature, plants and fashion world too!"
– Participants' feedback
MAKING NATURALLY DYED FLAGS
This family-friendly workshop used up the dye swatches and samples made by participants in the previous workshops to make community flags for the perimeter of R-Urban, capturing people's visions of what a greener, more sustainable and playful future of Poplar might look like. The flags were then taken to be sewn over the road by the Making for Change maker team. The session closed with a final discursive dinner.
"Exchanging ideas with other attendees from various age groups and different backgrounds was extremely valuable, as we got to exchange memories, recommendations or just simple feelings we get while living and circulating in the city. Thinking of the city infrastructure, it made me realize how much more we can take away from what we already have. Learning that the fabrics we used for the flag-making workshop were made using organic dye and how they would be taken to be sawn also by the members of the community, it made me realize that not only the materials but also ways of production could be sustainable on a community scale." – participant's feedback
Lead design research, curriculum design & facilitation:
Alisa Ruzavina and Hayley Caine
Climate Studio East London lead:
Katrina Wright, Andy Belfield, Cameron Bray, Emily Llumigusi, Katrina Wright, Syed Uddin and Aleya.
Alisa Ruzavina, Hayley Caine, Emily Llumigusi, Nana Maiolini